ABOUT CARROLL'S NEW YORK DELI SHAVED PASTRAMI
Take a bite of true New York with Carroll's New York Deli shaved beef Pastrami! Savour the authenticity, taste and quality of real beef pastrami. Made with succulently moist 100% Bord Bia approved Irish beef, adding mouth-watering flavour to any skyscraper sandwich of your choice!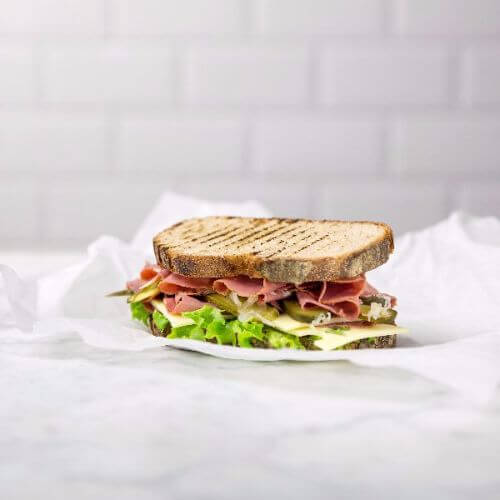 Ingredients
2 slices wholegrain bread
Butter
2 slices swiss cheese
50g Carroll's Shaved Beef Pastrami
1 tsp mayonnaise
1 tsp wholegrain mustard
Method
Serves 6
1. Preheat a pan over medium high heat.
2. Spread one side of each slice of bread with butter.
3. Place one slice, butter side down in the hot skillet. Stack with swiss cheese and Carroll's Shaved Pastrami. Spread the unbuttered side of the second slice of bread with mayonnaise and mustard; place it, butter-side up on top of the sandwich.
4. Cook until the sandwich is golden brown and cheese is fully melted.